Future Event Horse League Qualifier
Easygoer Bee Gee takes top spot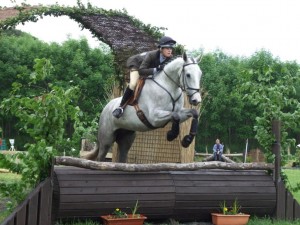 A home win by the Camilla Kear partnered Bee Gee in the four year old class ensured that their FEHL campaign got off to the perfect start.
The grey Tasset gelding is listed as being owned by Sue Ryan but it was her husband Chris who explained how the horse got its name. "We have six greys in the yard and he's known as the Big Grey."
Bred in Ballypreacus, Co. Wexford by Myles Nugent, the 168cms gelding is out of the Prospect Pride mare Silver Lady and was purchased at Goresbridge in March, having been hunted on a couple of occasions by his former connections.
"He's a natural easy goer" said Chris and ridden display judge Patricia Lalor obviously agreed as Bee Gee was joint top of her rankings along with the eventual second Spring Sensation, a 4 year old Colin Diamond mare ridden for Kieren Furlong by Jo Dudley.
Alistair Pim, who assessed the 4YO's on the flat for suitability and potential, reserved his top marks for Dermot Redmond's Cult Hero gelding Electric Hero who finished just outside the placings under Louise Codd. On the triangle for the day Marian Thomas was most taken in this class by the unplaced Kilbeg Sharifa Boy, a grey gelding by Sharifabad.
There were plenty of clear rounds in the younger horse class and, naturally enough, one was posted by Bee Gee who was home well within the time while others dallied. While some might think that being on home ground was an advantage for the grey, his owner would disagree. "He was really shocked when he was brought out of the yard this morning to see that "his place" had been taken over by others," explained Sue.
The Scarteen representative was one of a number of horses to receive 21 points from the jumping suitability and potential judge Tom O' Dwyer. He awarded 22.2 points to the unplaced Newmarket Venture bay Barnacurra Dancer, only purchased the previous day from Paul Donovan by Carol Gee, and to the Clover Echo gelding Terrybaun Mr. Echo.
This grey eventually finished 6th under his owner/breeder Kirstin McDonagh who had travelled down from her Westport home to Scarteen for the training day last month.
Also qualifying for the RDS on Wednesday was the 3rd placed Miss Mooney. Home-bred by Bryan Maguire and ridden by David Richard, this Cult Hero bay is a full sister to the recent Tattersalls CCI1* winner Bay My Hero, being out of the Tomgar Power Crest mare Bing Power.
Dublin is very much the summer target for Bee Gee but his next outing will be in the Intro class at Clyda next Sunday, while one of his smaller grey stable companions, Bozzy Finn, a son of Golden Lariat, makes his Eventing Ireland debut tomorrow at Kilguilkey House.
Fluent round by Westwinds Hercules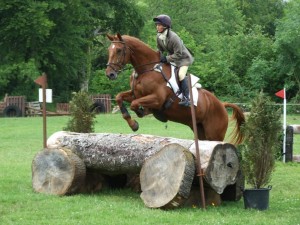 The new FEHL partnership of rider Sarah Ennis and Wexford owners Alice and Barry Kehoe got off to a winning start at Scarteen when the home-bred Westwinds Hercules sealed victory with an excellant clear in the 5YO section.
By the Belgian Warmblood Ramiro B out of a Porter Rhodes mare, Westwinds Hercules finished 2nd in the 2009 4YO league following wins at Forth Mountain and Scarteen 2 and placed 5th twice in his two outings this season in pre-novice events at Glandoran and Kircubbin. His eventing experience stood him in good stead last Wednesday when his fluent round saw him gain top marks for suitabilty and potential from Tom O' Dwyer.
In the ridden display, Liam Moloney went for the eventual 5th Lexie's Joy, a Ghareeb gelding ridden for breeder Pat Carty by Katie O' Sullivan, who was also on board Rory Costigan's GRC Mohican who topped the suitability and potential markings on the flat, awarded by Sally Parkyn.
The Condios gelding, who is out of a Clover Brigade mare, finished 2nd overall having gone clear over the Derby Track but losing a point for time. Around the triangle, Marian Thomas gave her top marks to the unplaced Rock Knight, a Full Extent gelding who had travelled down from Northern Ireland.
In this 5YO class, jump judge Brid Duggan had to wait some time before she could declare a completely clear round, this coming from Ennis' sister Niamh on her own Porsch gelding Porsch Renkum. Porsch is damsire of the 3rd horse to qualify for Dublin Harold McGahern's homebred Black Adder, a dark bay gelding by Ard VDL Douglas out of Shiela Na Gig, who was partnered by Trevor Reilly.
Sarah Ennis rode 3 horses in the 5YO class and in each instance circled left after the bank at 19 before tackling the following barrels, a much narrower obstacle for the older horses. "It worked fine on the first two so why would I change?" asked the rider who was last in to jump on Westwinds Hercules. "This is a lovely sweet horse and a real pleasure to ride" said Ennis of the 5YO. "He'll do some more qualifiers before Dublin, mixed in with a bit of showjumping and a couple of pre-novice events.
Margie McLoone (as published in "The Irish Field," Saturday 13th June)