Annie Flagmount
Description: Grey gelding, 2013, Approx 172cms
Sire: Welcome Emperor (ID)
Dam: Cloonacastle Countess (RID) (Grey Macha (ID))
Winner of the Performance Irish Draught Class (4/5YO) at the RDS 2018
Winner Working Hunter class at the Tattersalls July Show, 2018
Sales topper at the TIHA Hunter Show and Go in September 2018 when he was sold to the UK
Description: Description: Bay gelding, 2014, Approx 166cms
Sire: Sire: Diamond Discovery (USA)(TB)
Dam: Dam: Ballyneety Macrocket(ISH)
Skysablaze
Description: Bay gelding, 2013, Approx 168cms
Sire: Dazzling Blaze
Dam: Courtnacuddy Diamond
Placed at Clyda and Kilguilkey (EI90) before being sold to the UK in winter 2018
Sir Zircon
Description: Grey gelding, 2013, Approx 165cms
Sire: Gurraun Zidane (ID)
Dam: Clough Rua Silver Queen (RID)
Winner RDS Performance Irish Draught class 2016. Sold to the USA the following year.
SBT Rynca
Description: Bay gelding, 2010, Approx 165cms
Sire: Riyalan (TB) (IRE)
Dam: Doddington Princess (ISH)
Sold to the USA in Spring 2016 and is competed by Erika Fichter Erlandson.
2014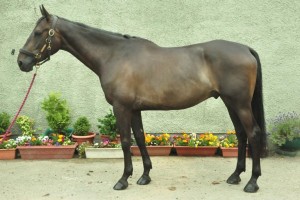 Bay gelding, 2008, 165cms
Sire: Market Square (TB)
Dam: Battlestown Coco (Daar Alzamaan (TB))
Breeder: J.M. Flood Murphy, St. Anthony's Haggard, Ramsgrange, New Ross, Co. Wexford
2013
2012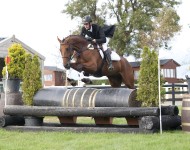 Name:   "BT Righty Ho" (Raiho)
Description: Bay gelding, 06/06/2008, Approx 163cms
Sire: Rainstown Hollow (TB) (Hollow Hand (TB))
Dam: Barnhill Princess (WNTR) (Diamond Serpant (ISH))
Breeder: Michael Pender, Barnhill, Castledermot, Co. Kildare
Bought in Goresbridge September Sales 2011 from the breeder. Placed at Intro level. Sold to Camilla Speirs through Goresbridge Go for Gold sale 2012.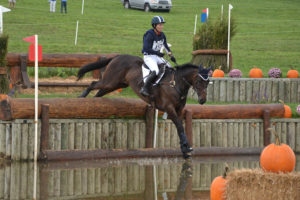 Name: King Bust ["Buster"]
Description: Bay/Brown gelding, 2008, 169cms
Sire: Buster King (TB) (Busted)
Dam: Coronea Star (ISH) (Star Kingdom (RID))
Breeder: John Hickey, Coronea, Skibbereen, Co. Cork
Sold to USA, Autumn 2012. Competing at CCI3* level with Michelle Koppin.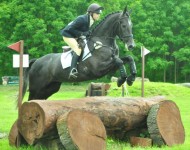 Name: "SBT Bounceaway" (Chopper)
Description: Grey gelding, 2008, Approx 164cms
Sire: Grange Bouncer (RID)
Dam: Mna Dubh (TB) (Nomadic Way TB)
Breeder: Mairead O' Sullivan, Rosslare, Co. Wexford
Left for UK in 2013, competing at Novice level with Fiona Davidson.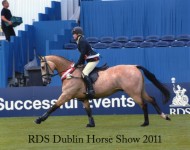 Name: "Monatrea Q"  (Q)
Description: Dun gelding, 2004, Approx 153cms
Sire: Templebready Fear Buí  (CP)
Dam: Monatrea Zoe (TB)
Breeder: Laura Griffith
Campaigned successfully at CNCJ* level. Also had some very good rounds in the Small Event Horse Qualifiers for Dublin over FEHL tracks (1.10m – 24 fences) including win and place. Went on to the RDS where he was unlucky not to lead after the first phase – an unusual 6 fence zig-zag test. Then in the Main Arena on the second day of this competition jumped one of only 2 clear rounds to finish Reserve Champion. Also winner Working Hunter Pony and Performance classes IPS Area Show. Sold Spring 2012.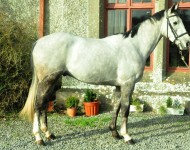 Name: "Sipsmith" (Iceberg)
Description: Grey gelding, 2008, Approx 167cms
Sire: Ghareeb  (TB)
Dam: Caesars Diamond (ISH) (Caesar Imperator (TB))
Breeder: Edward Dormer, Kiltealy, Enniscorthy, Co. Wexford
Bought from the breeder Autumn 2011. Broken and well started by the Bowes at Kiltealy. Continued over the winter around farm etc. Sold to Nicky Roncoroni in Spring 2012.
2011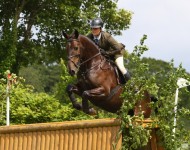 Name: "SBT Miller"
Description: Brown gelding, 2007, Approx 169cms
Sire: Stormhill Miller (GB) (Vouchsafe)
Dam: Lucky Queen (ISH) (Kildalton King)
Breeder: Mrs. Alice Pringle, Aughrim, Co. Wicklow
Sold through Goresbridge Go for Gold Sale.
2010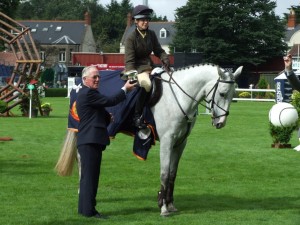 Name: "SBT Prospector" (Bee Gee)
Description: Grey gelding, 2006, Approx 170cms
Sire: Tasset  (TB)   Dam: Silver Lady (ISH) (Prospect Pride – Prince Riza)
Breeder: Myles Nugent, Ballypreacus, Bunclody, Co. Wexford
Bought in March 2010 already in work so able to continue straight on with further education. Very good attitude – quick to learn and showing a very mature response to any situation. Produced through the Spring with FEHL classes in mind and won on his first outing to qualify for Dublin. Placed at subsequent FEHL qualifiers and competed in Eventing Ireland Intro at Clyda before his big outing to the RDS. From 2nd place in the first two phases, he went into the Main Arena on the 2nd day and despite the pressure of atmosphere and strong track, coped extremely well to jump one of only two clears, ridden by RDS first-timer Camilla Kear, to end up the winner by a narrow margin. Huge achievement to win this prestigious class, judged by world-class eventing personalities Bettina Hoy, Mike Etherington Smith and Richard Meade.
On a wet and miserable day he again showed his attitude and ability when gaining selection for the Goresbridge / Monart inaugural Select Event Horse Sale. He went on to rubber stamp his potential with a very good outing round a strong track at Lisgarvan House in a Pre-Novice class; with just one showjump keeping him out of the placings.
At Monart in November he caught the eye of a number of good judges and was bought by Tim Brown for the top price at the sale. Hopefully he will continue on his winning ways as they have plans to continue his campaign in the young event horse classes in England.
2009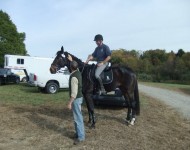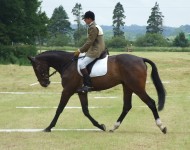 Name:  "Freedom's Light" (Formerly: Killahurler Imp Lad (Taz))
Description: Bay/Brown gelding, 2005, Approx 169cms
Sire: Diamond Imp Lad (Diamond Lad/Imperious)
Dam: Dynamic Venture (Kings Ride)
Competed and placed at Intro level at 4 years. Showing huge potential. Departed to America November 2009 hopefully with a big future.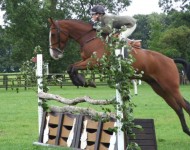 Name:  "All Four One"    (Cedric)
Description: Bay gelding, June 2005, Approx 168cms
Sire: Carlton Clover  (Clover Hill/Carnival Night)
Dam: Starling Lake (Tremblant)
Breeder: Phillip Gilligan, Knocknahur, Co. Sligo
Departed to America January 2010.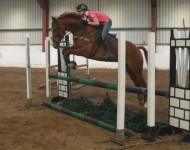 Name: (Garfield)
Description: Chestnut gelding, May 2005, Approx 158cms
Sire: Lucky Gift (Krayyan)
Dam: Pearl of Diamonds (Laughtons Flight)
Breeder: Bryan Maguire, Ballycanew, Co. Wexford.
Gained valuable experience during summer with student riders in various competitions and clinics on home ground. Competed Intro level Eventing Ireland. Sold to Gloucestershire Autumn 2009.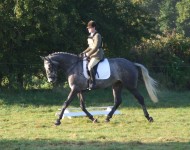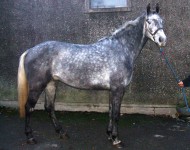 Name:  "Mr Smurphit"    (Smurf)
Description: Grey gelding, 2005, Approx 166cms
Sire: unknown
Dam: By Freddies Star
Had plenty of outings F.E.H.L. and Intro level Eventing Ireland to confirm the potential we had seen at home. Could have a great future if all goes to plan in his new home.