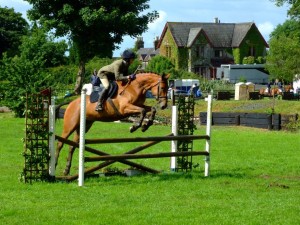 At the beginning of the new millennium, we were invited to run a Munster Qualifier for the Future Event Horse League – a scheme designed to identify and educate high class young eventers which is based on the use of a Derby style jumping test. This entailed the construction in April 2001 of a Derby Track at Scarteen.
The track contains a variety of natural and inviting fences including banks, ditches, logs and water complexes. We also have a wide range of portable cross country fences, all designed and manufactured by Nicky Kelly of Bantry based "Fillers and Fences." The facilities at Scarteen were further developed in 2012 with the addition of a four-horse walker and improved all-weather arena with fibre surface.
Our annual Qualifier usually takes it's place at the start of the YES (Young Event Horse Series) calendar.Apart from this, Scarteen often hosts Eventing Ireland 'Try Eventing,' schooling days, residential camps, young rider and Pony Club competitions. Trainers who have used our facility include include former world champion Lucinda Green, Olympic medallist Karen Dixon and the late RTE showjumping commentator John Hall. In recent years, Scarteen has played an important part in the horse sales industry, hosting selection days for the Goresbridge Go for Gold Sale and in 2013 organising the inaugural TIHA Hunter Show and Go; an initiative that led to the sale of over sixty traditionally-bred Irish hunting horses.
The derby track is available for individual or group training and schooling sessions but only by prior arrangement. Contact us to find out more.
Recent Events
2021 Dates
YES / RDS Connemara Performance / Irish Draught Qualifier (Thursday 8th July)
Eventing Ireland Try Event (1) (Wednesday 28th July)
Eventing Ireland Try Event (2) (Tuesday 31st August)
2013 FEHL Qualifier Highlights